Prestashop Products import
The module allows user to import csv,xml,excel files to prestashop database(  As you know exists default prestashop module for prestashop csv import). It supports sending an email with a report about the latest automatic operation. Key for product identification could be set to "Product name" field. "Import products per iteration" option allows users to run module on "cheap" hostings.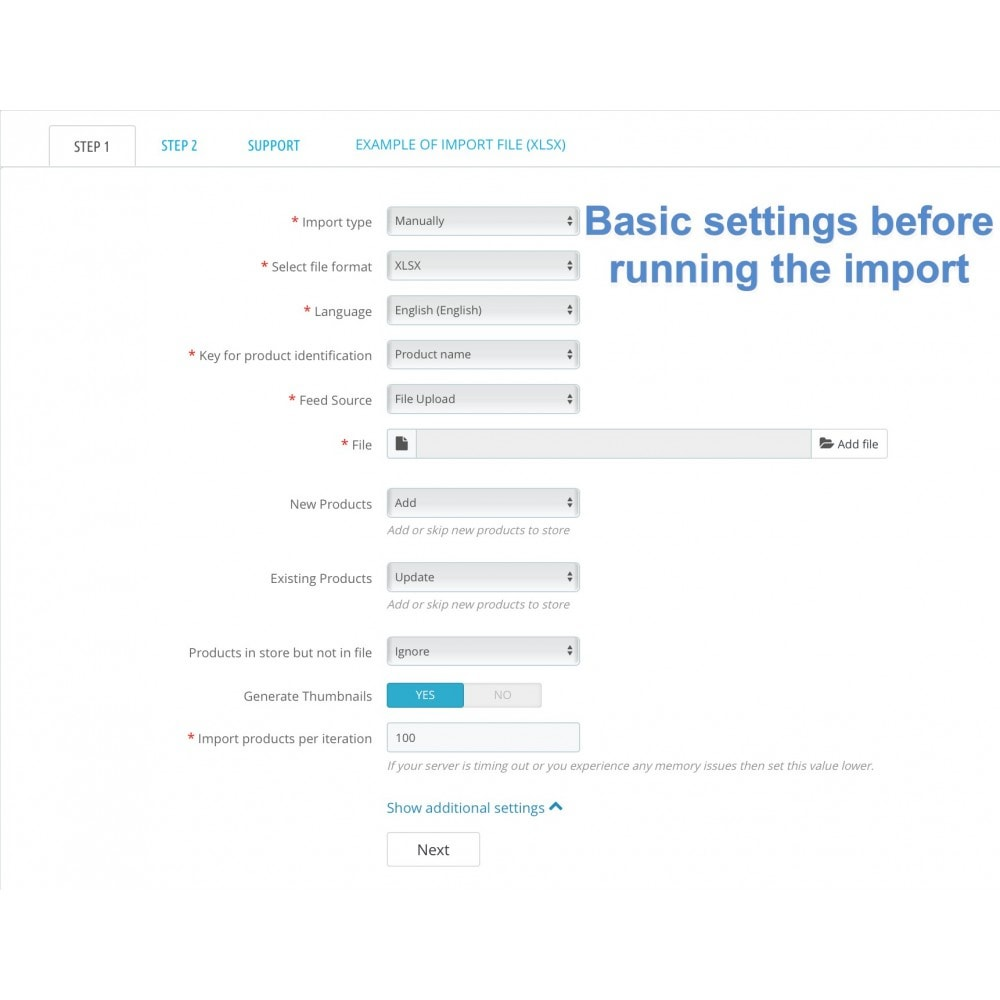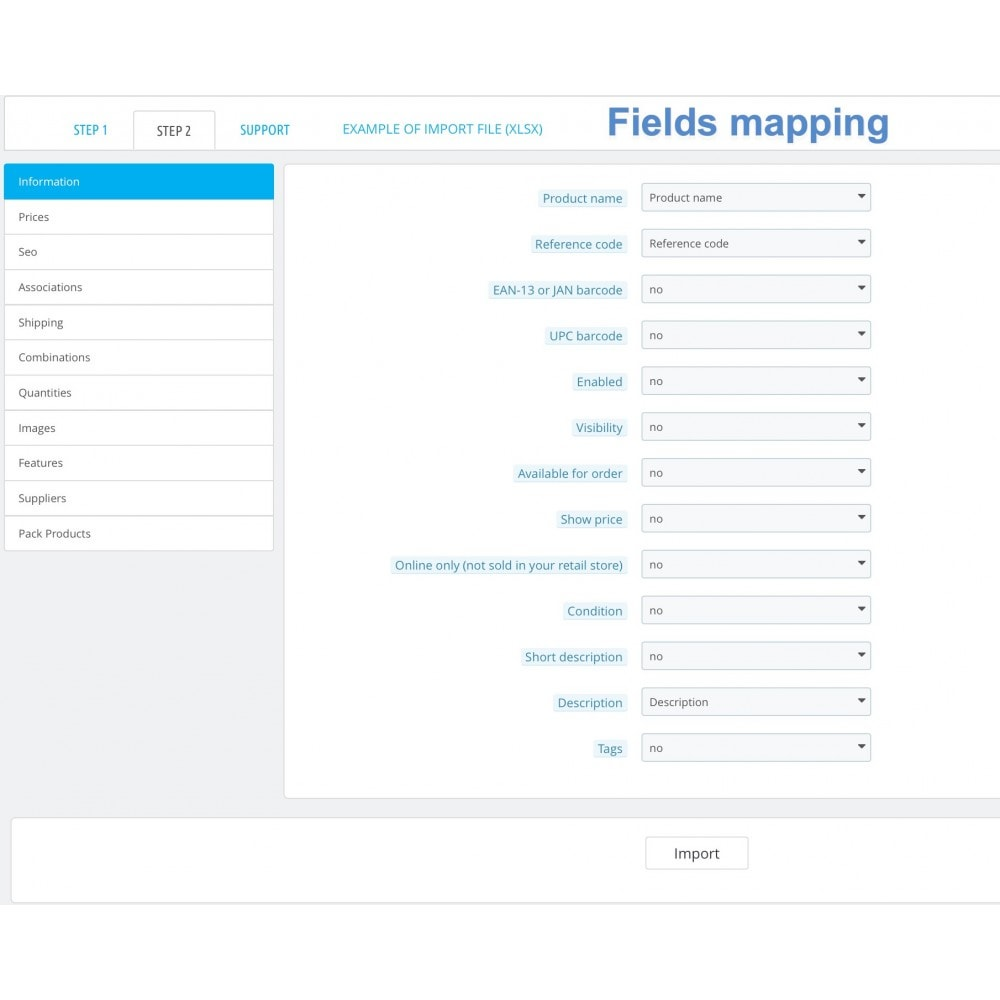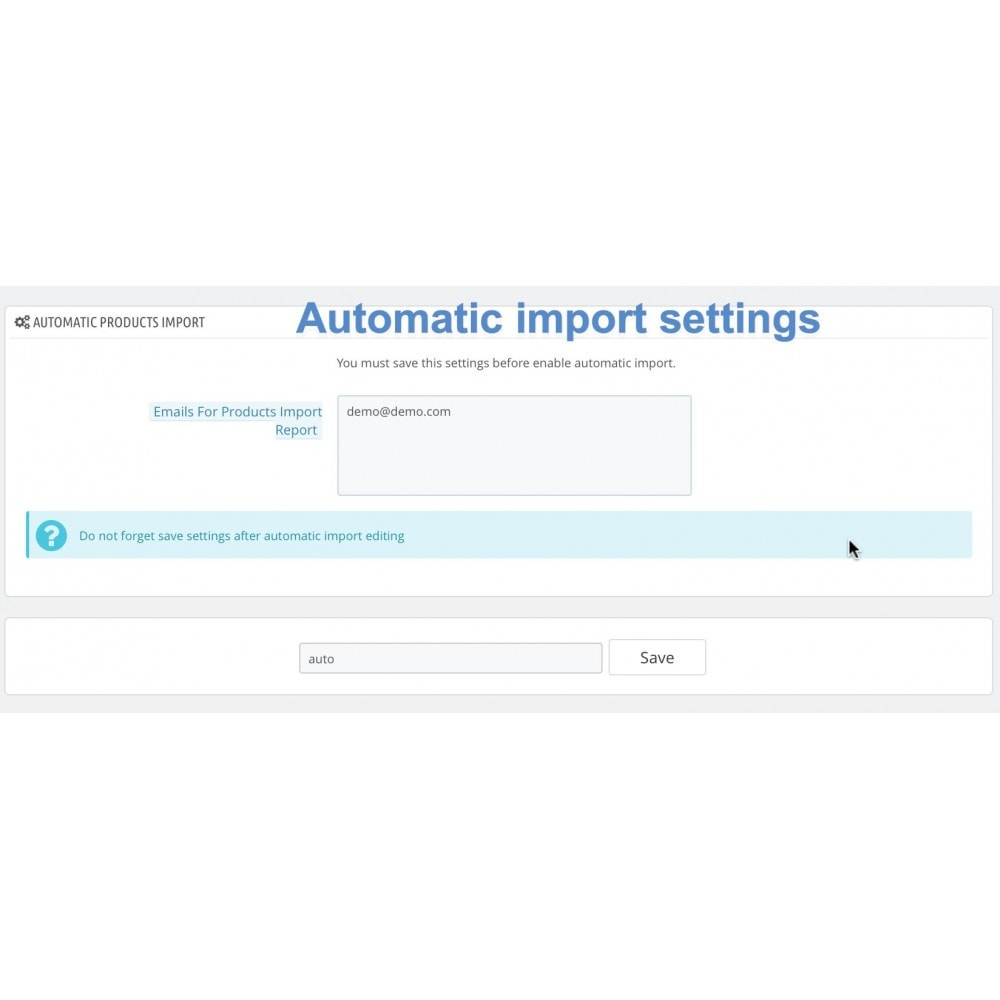 Prestashop XML import
XML import for prestashop. This service allows merchants to import XML files to prestashop 1.5 & 1,6 & 1.7. If you need to do some customization or price management for prestashop XML import we can help you with it. We help merchants to import XML data automatically to prestashop CMS. We import XML products with all related info: images features, combinations etc.
Prestashop Excel import
XLS & XLSX formats are supported in our prestashop excel import solution! You could define excel columns in application!
Default prestashop CSV import module
In this article will be described steps for correct csv import into prestashop online store.
Video
How to access import module in prestashop?
Prestashop has internal built-in import module for csv files. You can find it in Menu "Advanced Parameters / CSV Import".
Why csv import is important?
When you need to import many products at once the easiest way to do it is using csv import for it. Why? Because the alternative way for it is manual products adding to your store. CSV import allows user to import thousand items for 1 time and it will take about 1 minute. It sounds good.
Pros
CSV import saves time
You could manually edit / prepare csv file
CSV files / feeds are very popular among suppliers
Cons
You have to adjust supplier's csv to prestashops csv
Number of imported items depends on your hosting settings
prestashop csv import works not  so good as expected for update
for prestashop categories import  you have to define categories ids in products csv file
Every time when you need to import new or update old items you have to do it manually and to do all preparation itself.
if CSV is not valid and has errors inside it is hard to adjust it because prestashop log messages are useless.
When you need import products with features it is necessary to do special format for cells values and to do is not easy to do manually.
What types of entries are available for prestashop prestashop csv, xml import?
There are several types on entries are available for import:
categories
products
combinations
customers
addresses
manufacturers
suppliers
Alias
You could select type of importing entry via Combo-box as it is shown on the next image:

In this article will be described way how to import products via CSV file, so will be shown work with 3 entries:
categories
products
combination
General csv preparation before import
The next images shows configuration options what will be used during csv import process.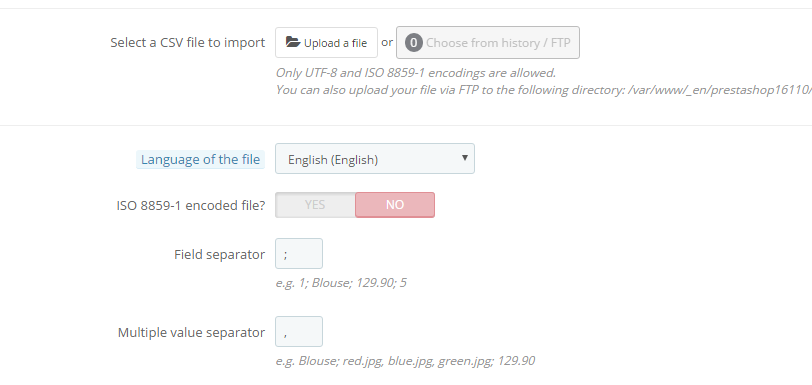 When you start to import csv to prestashop you have to do some preparations.
If csv file is big you have to upload it vis FTP or SSH to server to import folder (server path to folder will be shown under the input area).
If csv file is small you could upload it via browser.
Specify csv separator
Specify multivalue separator
What is csv separator?
It is a symbol what is using to separate 1 cell in text file from the other.
What is multivalue separator?
It is a symbol inside cell that allow user to define several values for 1 entry, for example when it is necessary to specify 2 and more categories for 1 product, such function will be used.
Import categores via prestashop csv
You have to prepare csv files with categories, the following columns are available for import:
ID
Active (0/1)
Name
Parent category
Root category (0/1)*
Description
Meta title
Meta keywords
Meta description
URL rewritten
Image URL
ID / Name of shop**
* – A category root is where a category tree can begin. This is used with multistore.
** – Ignore this field if you don't use the Multistore tool. If you leave this field empty, the default shop will be used.
Specific options for categories import via csv

What is "Force all id numbers"?
If you enable this option, your imported items' ID number will be used as-is. If you do not enable this option, the imported ID number will be ignored, and PrestaShop will instead create auto-incremented ID numbers for all the imported items.
Delete all categories before import
Use this option only when all data in store is not useful for you now.
Skip thumbnails regeneration
If you import many categories on once and your server hosting does not allow to import many categories at once you could use this option for increasing speed of categories insertion. But categories images will be skipped and you have to add them manually. If you do not have images to categories in your csv file this option does not influence on the import process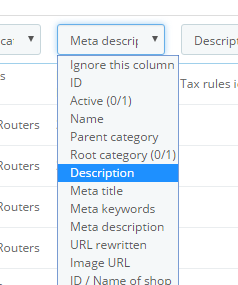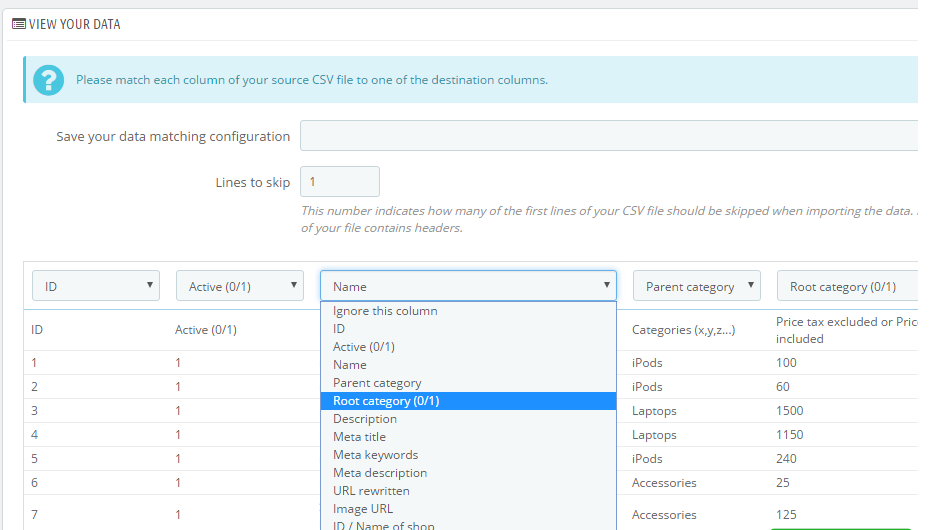 Import products via prestashop csv
The following fields are available for import via CSV for products:
ID
Active (0/1)
Name
Categories (x,y,z…)
Price tax excluded or Price tax included
Tax rules ID
Wholesale price
On sale (0/1)
Discount amount
Discount percent
Discount from (yyyy-mm-dd)
Discount to (yyyy-mm-dd)
Reference #
Supplier reference #
Supplier
Manufacturer
EAN13
UPC
Ecotax
Width
Height
Depth
Weight
Quantity
Minimal quantity
Visibility
Additional shipping cost
Unit for the unit price
Unit price
Short description
Description
Tags (x,y,z…)
Meta title
Meta keywords
Meta description
URL rewritten
Text when in stock
Text when backorder allowed
Available for order (0 = No, 1 = Yes)
Product availability date
Product creation date
Show price (0 = No, 1 = Yes)
Image URLs (x,y,z…)
Delete existing images (0 = No, 1 = Yes)
Feature (Name:Value:Position:Customized)
Available online only (0 = No, 1 = Yes)
Condition
Customizable (0 = No, 1 = Yes)
Uploadable files (0 = No, 1 = Yes)
Text fields (0 = No, 1 = Yes)
Action when out of stock
ID / Name of shop 
Advanced Stock Management 
Depends on stock 
Warehouse
Options specific for csv products import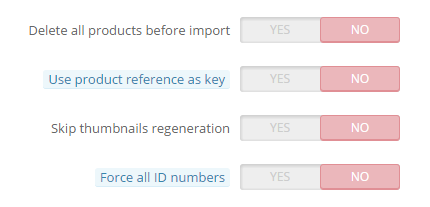 "Use product reference as key means" If enabled, the product's reference number MUST be unique!
"Force all id numbers" If you enable this option, your imported items' ID number will be used as-is. If you do not enable this option, the imported ID number will be ignored, and PrestaShop will instead create auto-incremented ID numbers for all the imported items.
Templates & file samples
prestashop csv import example is available and you could download it here.
We used these files in video demonstration.
Download  prestashop csv template for import here
Prestashop Import features
prestashop csv import product features is available for in default import module. You could take sample file with features, select "product mode for import" and to import it.
Prestashop Import combinations
prestashop csv import product combinations is available for in default import module. You could take sample file with combinations, select "combination mode" and to import it.
Prestashop csv import timeout
Sometimes when you import even 50 products via csv you could get timeout. It could happened if you import images from external server and it takes time by server to download them all and to resize as expected. So if such situation happens you have 3 ways what to do :
split your csv files to several small parts
increase timeout time on the server
use desktop software for data import or external services
make copy of your site at you home desktop
The problem with file splitting is that you do not know haw many items you need to leave in file for correct import, maybe 3 maybe 10 you have to experiment with it. it takes time.
When you want to increase timeout time on the server is also not so easy task Because if you use shared hosting it will be not possible. It could be done only if you have VPS or dedicated server. If you could change timeout time it could be changed in php.ini file.
To use desktop software as we provide is a way also for data importing. It has advantages that allows user to import big sets of data in prestashop.
When you do copy of web site on your home desktop computer it is also a way how to import big set of items to your prestashop. You have to install php, apache. Migrate your site + db to home computer. Import csv. Restore dat afrom home desktop to your live site. It is good when you do not have customers because you could miss all data that added to your live database when you do data import. It could be solved if you will restore not all mysql tables in database but responsible for products info only.