Price Monitoring
Our job is to help you monitor your competitor's prices through automated price monitoring. You can look at price movements from previous years up to the present. There's no more need to wait for long periods just to know what your competitor did a month ago. You can get up-to-date information the soonest as they are released.
Furthermore, our platform allows you to compare, monitor, analyze, and workaround your eCommerce competitors — all hassle-free. We can deliver all the reports and analytics in real-time so that you can focus all your attention in making the big decisions, instead of watching your competitors 24/7. If you're interested, fill up a price monitoring request form.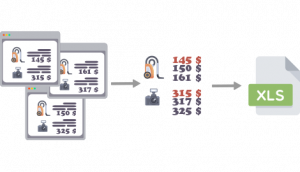 When it comes down to it, the way you set your prices can make or break your business. Customers always look for the best price for the value they want to obtain. If your business can't get it right, your competitor probably will. To achieve competitive prices in the market, you have to be aware of how other businesses value their products. This is why studying the prices of other businesses is crucial.
About
FAQ
Our expertise
Apps
Pricing
Customers buy if the price is right. Businesses thrive if their pricing is right.
Price remains an important part of the marketing mix, whether you subscribe to the traditional 4Ps or the modern 7Ps or 12Ps. Even sources citing 44Ps acknowledge the importance of pricing.
Price monitoring is an essential component of a good pricing strategy. It is vital for a brand to monitor its prices versus its competitors across different platforms and channels. This ensures that the brand is up-to-date with market changes. This enables them to adjust prices based on market-based information.
With the rise of eCommerce, retail has now become digital, massive, and real-time. Do not get left behind. Stay attuned to your market. Compare, monitor, and analyse prices. You do not have to do it on your own or manually. We automate price monitoring. We are your data provider.
Price Monitoring Online Service
SignUp
Request Repricing & Price Monitoring for your business