In this article we will describe how to import Shopify CSV,XML files.
You can order SHOPIFY CSV,Excel,XML,Supplier API products import here.
Request a quote
We have own software that allows users to import any XML file or CSV to Shopify, define custom margins for products from xml file.
Additionally you can sync items from xml file to Shopify periodically.
UPDATE!!! Check our new tool for Shopify xml files import:
Video guide
How to access Shopify CSV import/export module?
Shopify has built-in app to import and export CSV files. Open menu "PRODUCTS -> Products". Now you can find button "Import" to import offers from CSV file and button "Export" to save offers into CSV. If site has no offers only button "Import" will be shown.

Why CSV is important?
When you need to import many products at once the easiest way to do it is using CSV import for it. Why? Because the alternative way for it is manual products adding to your store. CSV import allows user to import thousand items for 1 time and it will take about 1 minute. It sounds good.
Pros & Cons
Pros
CSV import saves time
You could manually edit/prepare CSV file
CSV files / feeds are most popular among suppliers
Cons
It is hard to fill long list of products right by hands
You have to adjust supplier's CSV to Shopify format
Number of imported items depends on your hosting settings
Some extended fields can't be filled through CSV
Every time when you need to import new or update old items you have to do it manually and to do all preparations itself.
If CSV is not valid and has errors inside it is hard to adjust it because log messages are useless.
What types of entries are available for import?
Depending on appointment distinguish the following records in CSV:
Product
Variant of product
Image for product
The main record is product and all additional records must be placed after it.
In preview you can see main fields and variants for first product in CSV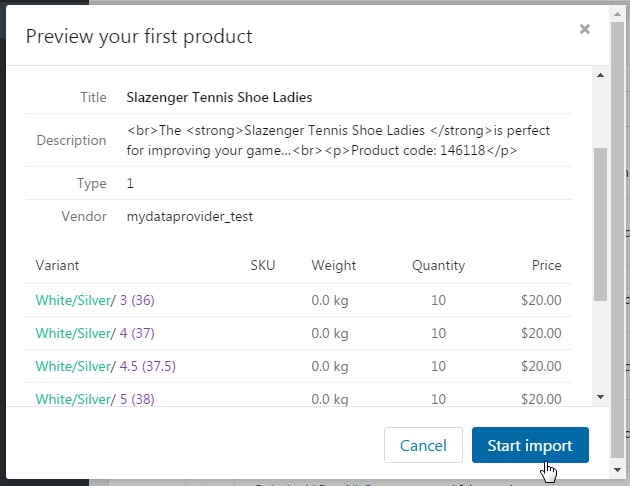 Click "change order of column headings" to reassign columns on sense or preview additional fields.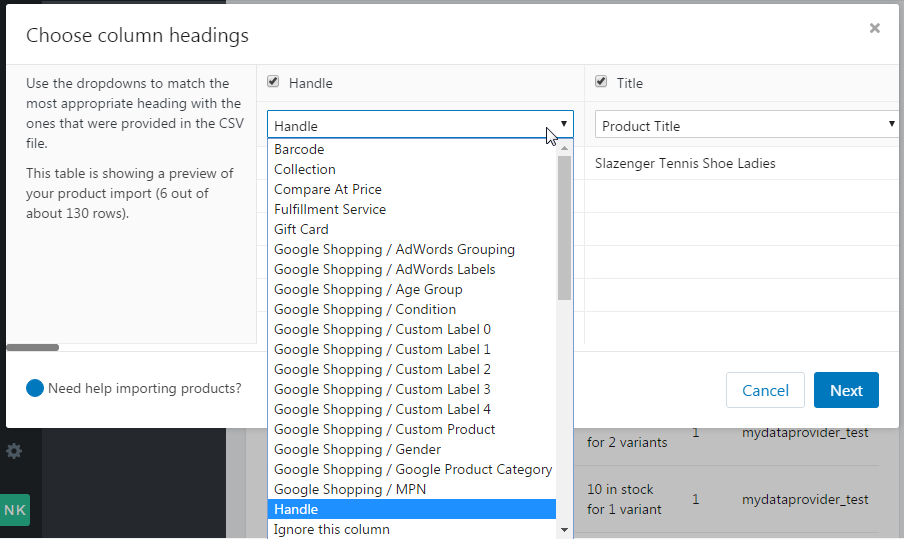 Here you can see two rows in header:
Checkbox with column name. Uncheck it to prevent loading column into Shopify
Dropdown for most appropriate heading matching
Only this two options present in preparations to import CSV file.
Shopify CSV format
The following fields are available for import via CSV for products:
Handle
Title
Body (HTML)
Vendor
Type
Tags
Published
Option1 Name
Option1 Value
Option2 Name
Option2 Value
Option3 Name
Option3 Value
Variant SKU
Variant Grams
Variant Inventory Tracker
Variant Inventory Qty
Variant Inventory Policy
Variant Fulfillment Service
Variant Price
Variant Compare At Price
Variant Requires Shipping
Variant Taxable
Variant Barcode
Image Src
Image Alt Text
Gift Card
Google Shopping / MPN
Google Shopping / Age Group
Google Shopping / Gender
Google Shopping / Google Product Category
SEO Title
SEO Description
Google Shopping / AdWords Grouping
Google Shopping / AdWords Labels
Google Shopping / Condition
Google Shopping / Custom Product
Google Shopping / Custom Label 0
Google Shopping / Custom Label 1
Google Shopping / Custom Label 2
Google Shopping / Custom Label 3
Google Shopping / Custom Label 4
Variant Image
Variant Weight Unit
Variant Tax Code
Templates & file samples
CSV file from video demonstration is available and you could download it here.
Shopify Drop Shipping

Do

you

need

a

help

with

Drop

Shipping

for

Shopify

?

The

following

tasks

can

be

done

by

us

:

-

Data

export

from

csv

,

xml

,

api

.

-

SEO

optimizations

(

meta

title

,

meta

description

)

,

h1

,

name

,

features

for

<

b

>

Shopify

<

/

b

>

.

-

Product

price

management

.

-

Products

filtering

by

category

(

ies

)

or

price

ranges

etc

.

-

Data

import

into

your

Shopify

cart

.

-

Price

and

quantities

updates

.

-

Copy

all

images

,

features

,

variants

etc

.

Use

our

Drop

Shipping

Service

for

daily

updates

of

your

store

.
| | |
| --- | --- |
| Shopify all versions support | Yes |
| Data import & export | Yes |
| Images, Features, Variants import | Yes |
| Custom CSV,XML,API,FTP support | Yes |
Shopify xml import
We could import custom XML file via our Shopify xml import solution! Full data update! Contact us sales@mydataprovider.com
Shopify product import
As you see product import for Shopify is necessary when you starting drop shipping. There are several way how to solve it: using csv import, xml import & web scraping.
ORDER Shopify CSV,XML import Request a quote