What is Price Monitoring?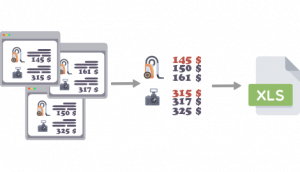 1. It is a process of extraction prices & real stocks from competitors sites.
2. Products info will be saved at reports: excel,csv,xml,json.
3. You can access data via API.
4. Reports can be generated daily or with necessary for you frequency.
5. If there is no real stock in public we can extract real Availability.
6. We can emulate Product Adding to Shopping Cart and to get info after that action.
7. We can do price monitoring for ANY site!
How to use it?

1. It is a process of getting new prices for your online store.
2. In the basic case for new prices will be used wholesales prices.
3. In the advanced mode will be used competitors prices.
4. Any formulas can be applied.
5. You can setup your Margin for each Category or Brand even for special Product.
6. You can process correctly MRP & RRP rules.

Try our service demo now!
Price & Inventory monitoring



If you need to extract real prices & stocks from your competitor's or supplier's website, you could use our Price & Inventory monitoring scripts. You will then get fresh info about MRP (Maximum retail price) or RRP (Recommended retail price).
Distribution Chain Monitoring



You will get info about products and places offered by online stores + info about prices or inventory changes and new products.
Price monitoring. Establishing a competitive price online is difficult. You are confronted with hundreds of online merchants who, like you, are offering competitive prices for their products.
You can monitor the prices of your competitors. Unfortunately, online prices change so fast that it is difficult to keep track of all of them. A web scraping service automates the price monitoring for you, thereby helping you arrive at an informed decision on your pricing system.
Distribution chain monitoring. Product distribution chain monitoring is an indispensable part of the supply chain management. Product distribution chain monitoring is the process of tracking all your available data points in the distribution of products when it is ready for sale to the public. The information extracted from this field is crucial to management's strategic or tactical decision-making.