We do price monitoring for our clients. We do it using our
Web Scrapers Runner
service. You can receive actual price monitoring real-time reports with prices from competitors sites daily or by request. You can ask us to setup scheduler to receive such reports automatically.
What will you get?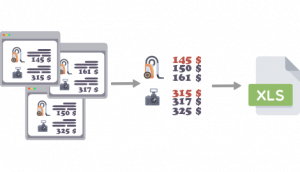 1. It is a process of extraction prices & real stocks from web sites.
2. Info will be saved at reports: excel,csv,xml,json.
3. You can access data via API.
4. Reports can be generated daily or with necessary for you frequency.
5. If there is no real stock in public we can extract availability.
6. We can do price monitoring for ANY site!

Prices extraction from any web site: competitors or suppliers.

Stocks or items availability extraction.

Shipping cost extraction.

Real-time prices & availability extraction.

Export to easy for understanding files: excel, csv etc.
Price & Inventory monitoring



If you need to extract real prices & stocks from your competitor's or supplier's website, you could use our Price & Inventory monitoring scripts. You will then get fresh info about MRP (Maximum retail price) or RRP (Recommended retail price).