What is Price Monitoring?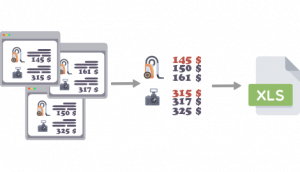 1. It is a process of extraction prices & real stocks from competitors sites.
2. Products info will be saved at reports: excel,csv,xml,json.
3. You can access data via API.
4. Reports can be generated daily or with necessary for you frequency.
5. If there is no real stock in public we can extract real Availability.
6. We can emulate Product Adding to Shopping Cart and to get info after that action.
7. We can do price monitoring for ANY site!
1. It is a process of getting new prices for your online store.
2. In the basic case for new prices will be used wholesales prices.
3. In the advanced mode will be used competitors prices.
4. Any formulas can be applied.
5. You can setup your Margin for each Category or Brand even for special Product.
6. You can process correctly MRP & RRP rules.
What is Repricing?