Do you want to develop a python web scraper or maybe javascript web scraper? Are you looking for a web scraping service? You found! We provide Web scraping service since 2009. We can scrape any website for you. Our core expertise is a web scraping and we can scrape any type of site. Max web scraping speed we got is 17000 web requests/minute from 1 server with a 100MB/s network.
Python and C# Web Scraper samples
eCommerce CMS web scrapers
Shopify Prestashop WooCommerce OpenCart Magento NopCommerce
eCommerce sites for web scraping
If you do not know where to take data for your ecommerce project. Find TOP ecommerce sites for web scraping eCommerce sites for web scraping.
If you want to find global TOP ecommerce sites for scraping in your region use Similarweb ranking for ecommerce.
If ecommerce web scraping is new for you – read our article about that here.
Our clients work with us for years. If you are looking for such a web scraping service contact us
Meet the team
Nikolai, CEO
Alexandr, Project Manager
Alexandr, Developer
Yliana, Developer
Olga, Developer
What we do not do with web scraping?
1) We do not sell web scraping software or tools.
2) We do not sell classic web scraping SaaS or online tools/extensions (where you need to setup all itself).
3) We do not give DLL or Framework for developers.
What we do at our web scraping service?
1) We provide "full web scraping service": you as a client tell us your needs and we configure all itself – you just receive data (files), API access, or sync with your database!
2) We use our own web scraping tool (we call it RUNNER) that will be configured with all your requirements by our team for your case.

Who we are?
We are Web scraping service for business
You define requirements
We develop / implement / manage technical part of web scraping project
setup for your case/requirements.
Here is our online panel/dashboard for web scraping service end-user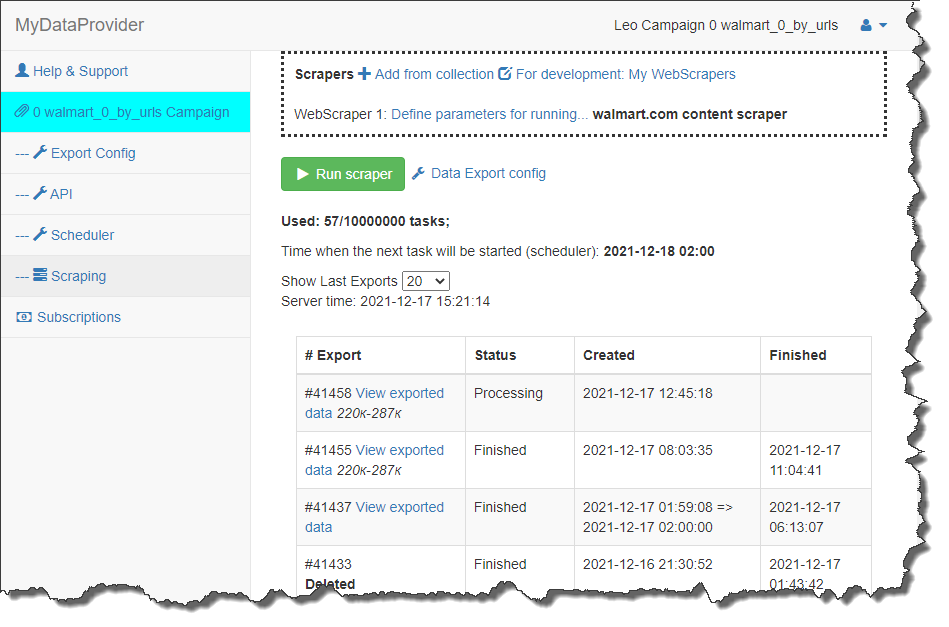 You can here run web scraping task, check task status, and download data when ready!
Define export format for scraper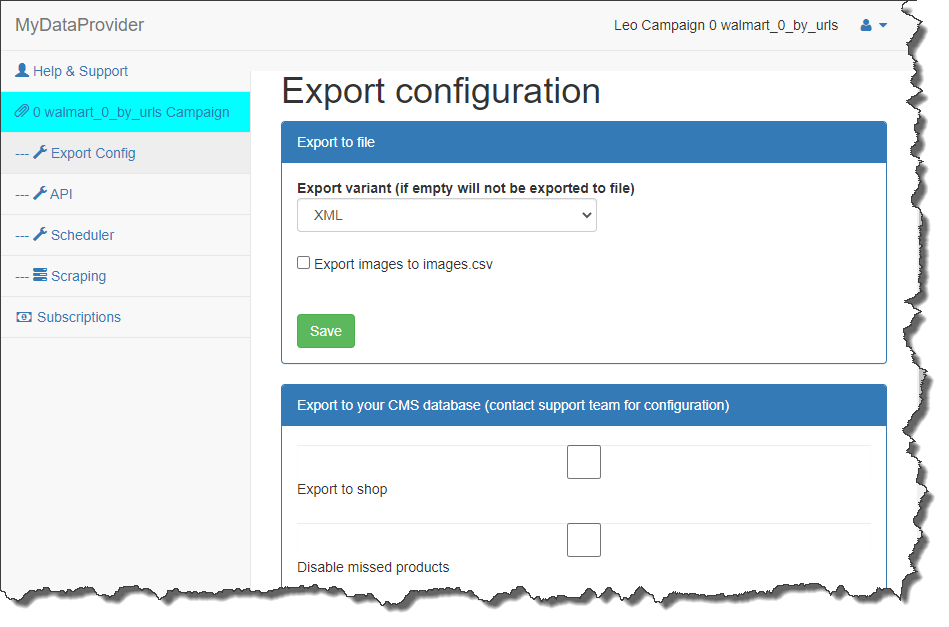 Export format is not hardcoded, you can change export file format from your account when you need.
Select your file format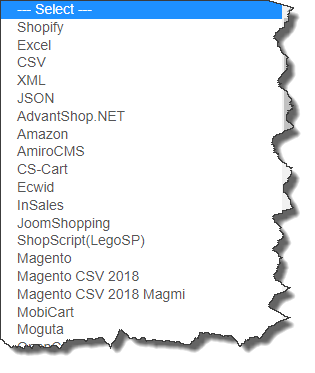 There are many options are available: shopify, csv, excel,XML, json etc.
Export from web scraper to your database directly.
We can import to your database: create new products, update old products, prices, stocks.
– MySQL
– Shopify
– WooCommerce
– Prestashop
– CcvShop
– Cs-Cart
– OpenCart
– Magento? hoh, it is really hard to import right. always…
– or take our data from API and import to your database itself!
etc.
Any web scraping task can be scheduled by you.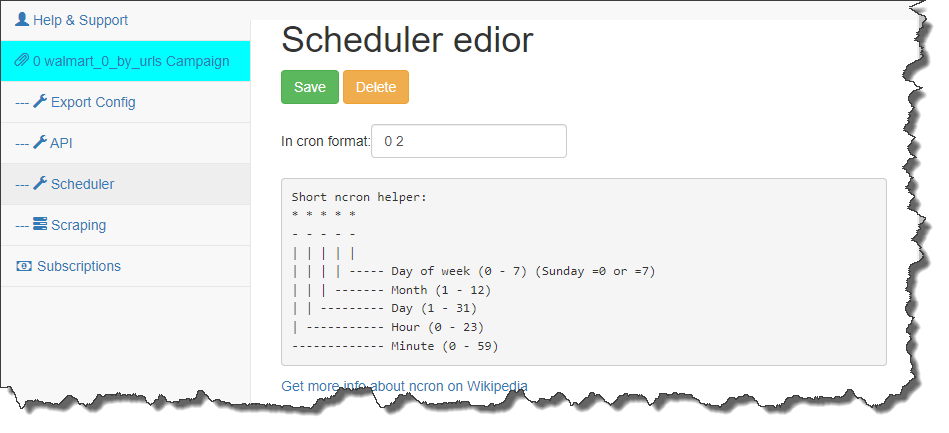 You can define when to start web scraping tasks: hourly, daily, weekly, etc.
It is flexible and any use case is supported here. We use for schedule cron format to define the start time for tasks.
Our web scraping service has a support team. You can create tickets for the support!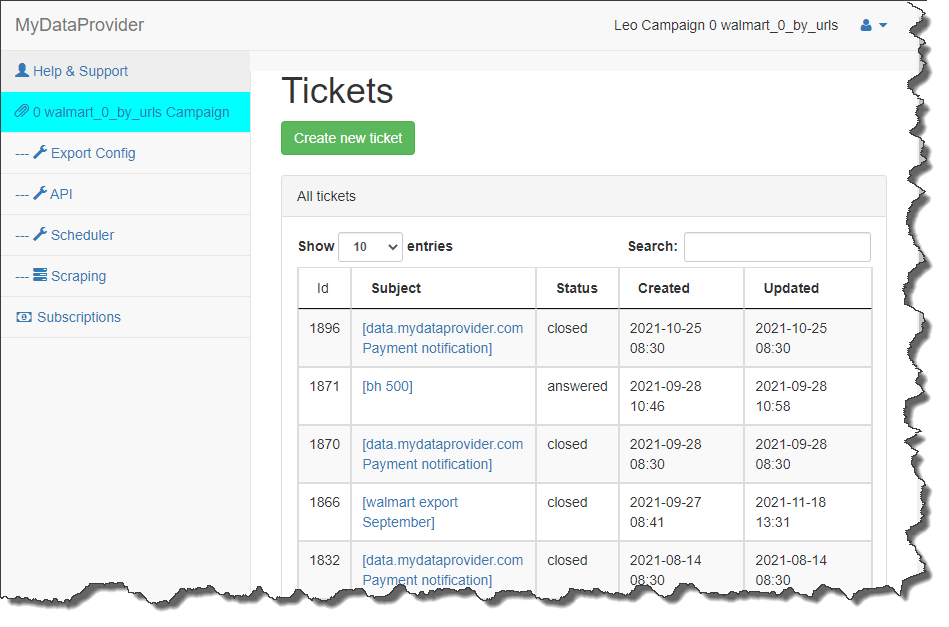 If any issue happens with scraping create a ticket for the support team and the team will help you with your web scraping task.
You can download data from our API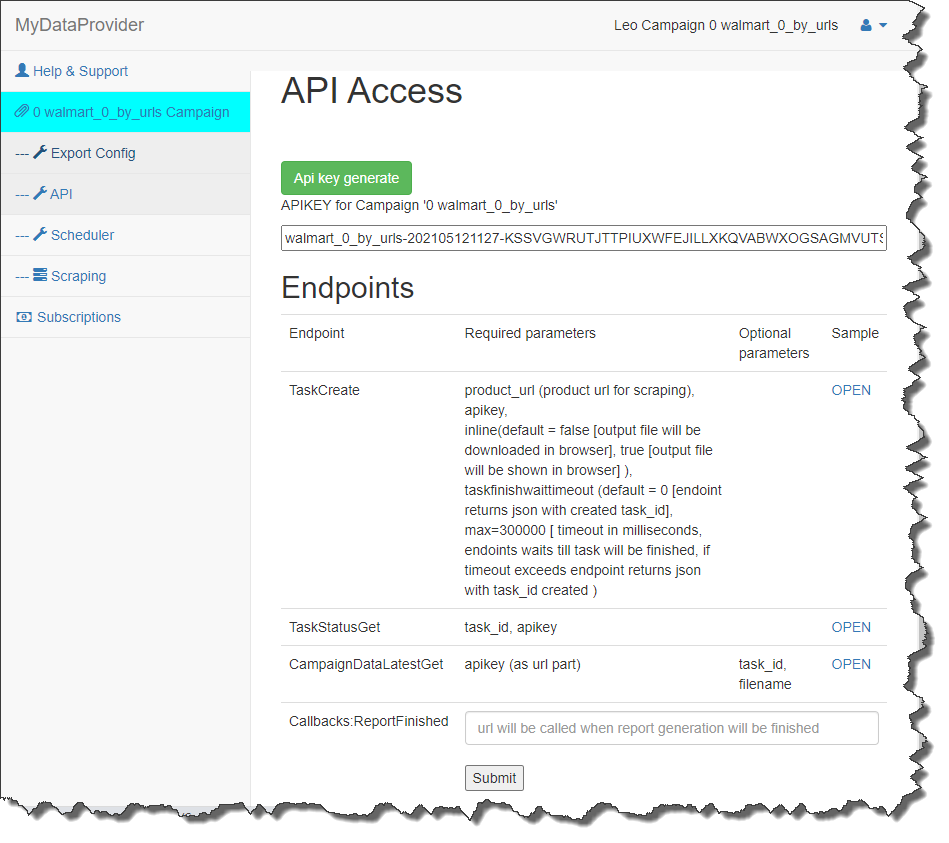 You can get results from tasks that our web scraping server creates for your account
or you can initiate new web scraping tasks via API calls.
When any web scraping task finishes scraping you can receive an API notification about this event to your endpoint.
Web scraping service campaigns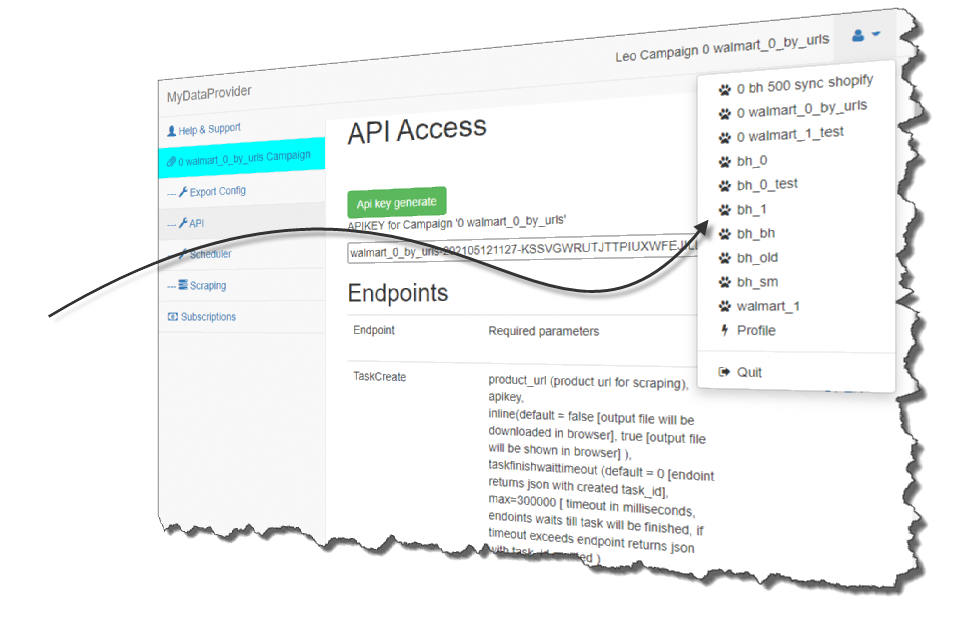 Your account dashboard could have multiple campaigns. By default you have 1 web scraper and 1 campaign.
But if you need to scrape 2 or more web scrapers, you will have appropriate campaigns for each web scraper.
Each campaign is an independent dataset that generates data by web scraper.
If you want to order a web scraper: contact us and we will prepare an estimation for your request.
Welcome from our CEO, Nikolai Kekish!