We have developed 3 own tools for Web Scraping! What you have to use for your task depends on many factors: number of fields extraction, way of extraction data, blocks detection, number of extracted items etc.
Why work with us?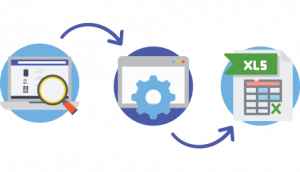 1. You can create Web Scraper for any web site!
2. Our team at MyDataProvider is ready to meet all your web scraping needs so you could try our web scraping services.
3. You can get daily or weekly updated data.
4. Access data through API calls.
5. Export to CSV, JSON, XML or directly to your online store.
6. Run data extraction tasks via schedulers.
7. Automatic data extraction quality checker.
8. Access to the Services via web browser.
1. If you need site specific web scraping.
2. If you need to use anti-blocking algorithms + proxy servers for web scraping.
3. If you need eCommerce data.
4. If you need import extracted data to your online store.- Need data or site analytics from external website or niche? Our web scraping services revolve around fulfilling your needs accurately and in a convenient manner. Our process relies largely on automation and bots to give you precise results within a short amount of time.- Even if you're quite new to web scraping and data extraction, no worries. We are here to help you find the best solution, depending on the needs of your business, whether it be parsing, text pattern matching, or the like. Our web scraper product allows you to create a web scraper to fit your requirements and export it to different formats.
When work with us?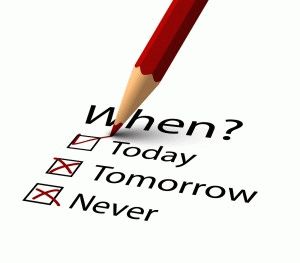 1. Data Extraction Daily or Weekly & export to csv,excel,json.
2. 100% support on each step.
According to a trend study, 90% of the online data worldwide was generated only in the last two years. The volume of data floating in the web has immense implication for businesses. Business executives know the value of data as evidenced by the growing demand of companies for data acquisition. Big data is crucial to the success of a business, especially in today's competitive world. But, data acquisition presents problems and challenges for business executives.
Web scraping meets this challenge. And, it is this demand for data acquisition that led to the unprecedented growth of the web scraping service companies.
Since the web scraping services were introduced, its market share has grown, capturing 48% of Ecommerce, 20% of recruitment, 17% of travel, and 6% of real estate. With the increase in real estate business, the 6% is seen to grow in the coming years. If you run your own business, but you're new to web scraping, it pays to learn more of this data acquisition mechanism. The effort you pour into it pays off when you see the positive effects of data acquisition on your business.
Web Scraping Tools
Mozenda
Mozenda is a web scraping service (SaaS). It has useful features for data extraction. The Mozenda web scraping service has two parts- Mozenda console and Agent builder.
Mozenda Console is a web-based app that enables the users to scrape project, view and organize the scraped data and finally exporting or publishing the data in a cloud-based storage like Dropbox. All data processes at data harvesting servers in mozenda data centers.
Mozenda pricing is high and is targeted on US & UK markets & enterprise clients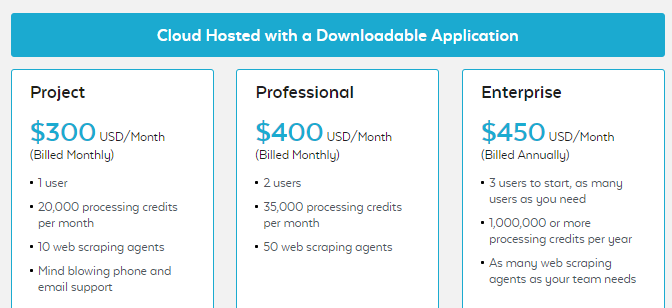 Pros
Possibility to configure script using Microsoft visual Studio.
You can easily capture AJAX and iFrame data with Mozenda. It also supports documentation and image extraction. You can scrape websites with Ip blocking with Mozenda since it provides Geolocation.
Cons
There no way do not use Desktop app, if you want to configure scraper -> you have to install Mazenda desktop on Windows.
Mozenda has stability issues when dealing with big websites. Also, the packages are expensive and charge from 499 for 5000 pages.
UIPath
visit UiPath site
Read about UiPath
UIPath tells that they are best RPA (Robotic Process Automation) platform for enterprise. From my POV it is web scraper & it allow to record specific user actions in browser.
UIPath pricing is high and is targeted on US & UK markets & enterprise clients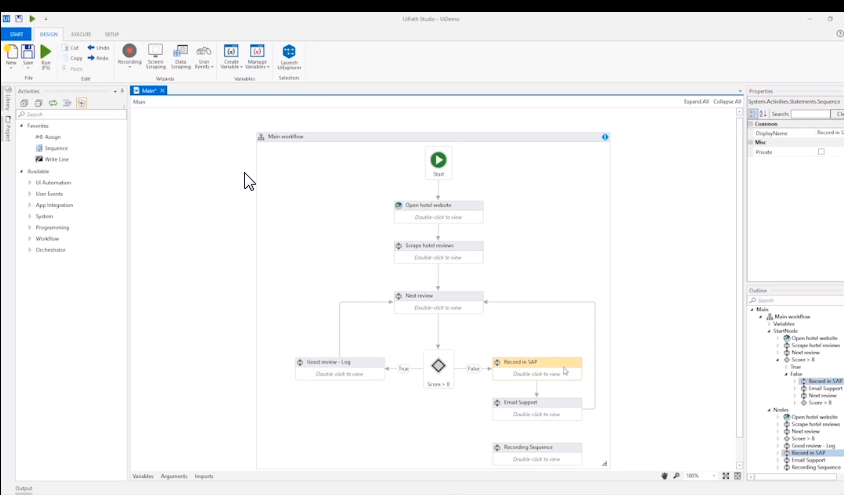 Pros
Target on Enterprise clients.
Cons
Rich UI, + it takes long time to teach how to use it, they even create UIPath academy, because product is really hard for understanding. if compare with development -> UIPath is wrong way to build common scenarios for web scraping. Common scenarios could be solved via development.
Octoparse
visit Octoparse site
Read about Octoparse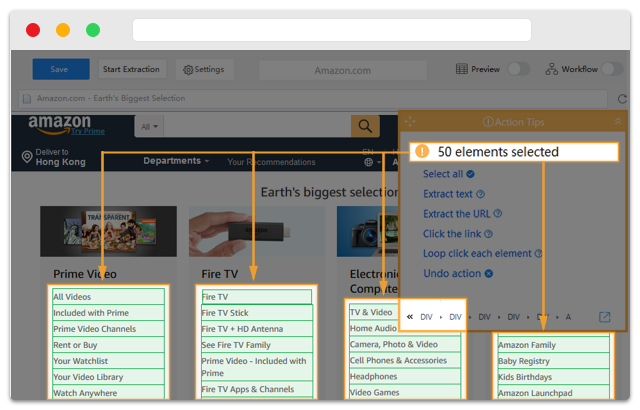 Octoparse web scraping tool is a powerful and free tool that is used to extract all kinds of data from the website. With just a point and a click, you can extract all the content of a website within seconds. The data scraped is later downloaded in a structured format like Excel, CSV, HTML or in your database without any coding.
Octoparse can also extract data from tough websites that have difficult data block layout with the use of its in-built Regex tool. It can also locate the web elements using its XPath configuration tool. With this tool, you can bypass websites that have IP blocking as Octoparse automates IP leaving without detection
Pros
Octoparse is a free web scraping tool that can serve all your web scraping needs. This tool beats all other web scraping tools since the tool has the power to scrape unlimited pages.
Cons
Octoparse cannot scrape data in PDFs or download images directly.
Parsehub

Parsehub is a visual web scraping tool that can scrape interactive maps, calendars, forums, nested comments, dropdowns, forms, JavaScript and Ajax with ease. The desktop application supports Windows, Mac OS X, and Linux. This web scraping tool has a web app that is built within the browser. You can get a free version and a paid version for massive data extraction.
Pros
Parsehub supports more systems as compared with Octoparse. It is also flexible when you want to scrape data that has different needs.
Cons
Parsehub works well with programs that have API access. The free version limits the users with only 5 projects and 200 pages per run.
Content Grabber

The content grabber is a multi-featured visual content web data extraction tool from the web. The tool automatically collects complete content structures like catalogs or web search results. The web scraping tool is user-friendly and sophisticated enough to extract data from AJAX websites
This web scraping tool is favorable for users with advanced web scraping skills as it offers scripting editing, debugging interfaces.
Pros
Content grabber provides more options for users with third party web scraping tools. They can debug or write scripts to control crawling process.
Cons
Content grabber does not have a free version and its packages start from $149 a month which is quite expensive. The tool is not easy to use to use like Octoparse and Parsehub.
ScrapingHub

Scrapinghub has four tools-Scrapy cloud, Portia, crawlera, and splash. It is a developer-focused web scraping platform that helps in extracting structured information from the web. Scrapy cloud helps the users to automate and visualize the web spiders activities.
Crawlera has  IP addresses of more than 50 counties gives a solution to IP ban. Splash, on the other hand, makes it possible for users to scrape pages that use JS using the Splash browser.
Pros
Scrapinghub is a powerful web scraping tool that offers different services to people with different needs.
Cons
Scrapy is only available for programmers while Portia is not easy to use and requires many add-ons when scraping complex websites.
Dexi.io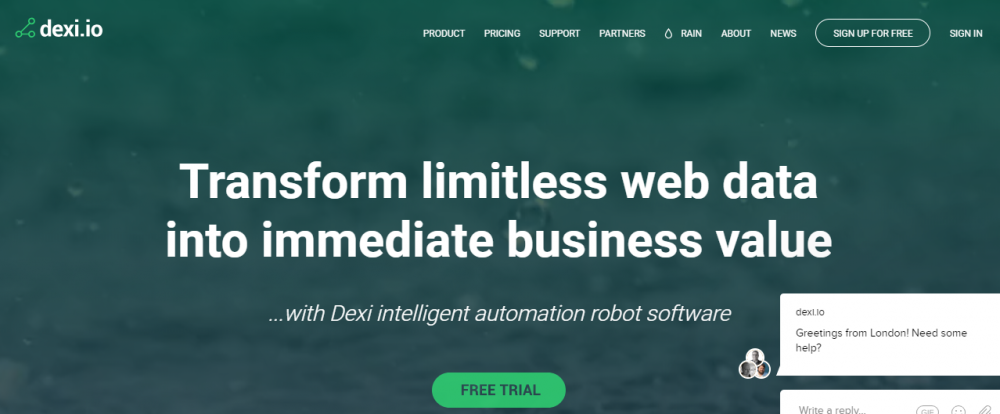 Dexi.io is a cloud based web scraping tool that provides development, hosting and scheduling services. You can get all the data you want with only a point and click Ui without any coding. You have to create three robots for a simple task-Extractor, crawler, and pipes.
The scraped data is available in JSON /CSV format and are queued through ReST from the external applications. You can get the most modern functionality with the web suite like capture solving, filling forms, Regex support, and others. You can scrape data in websites that have JavaScript with Dexi.io tool.
Pros
Dexi.io offers the most modern web scraping functionality like capture solving. Also, the tool supports 3rd party services- capture solvers, cloud storage and can easily integrate with your robots.
Cons
Dexi.io web scraping tool does not have a free version. Also, the tool is too complicated to understand and sometimes the bots are annoying to debug.
WebHarvy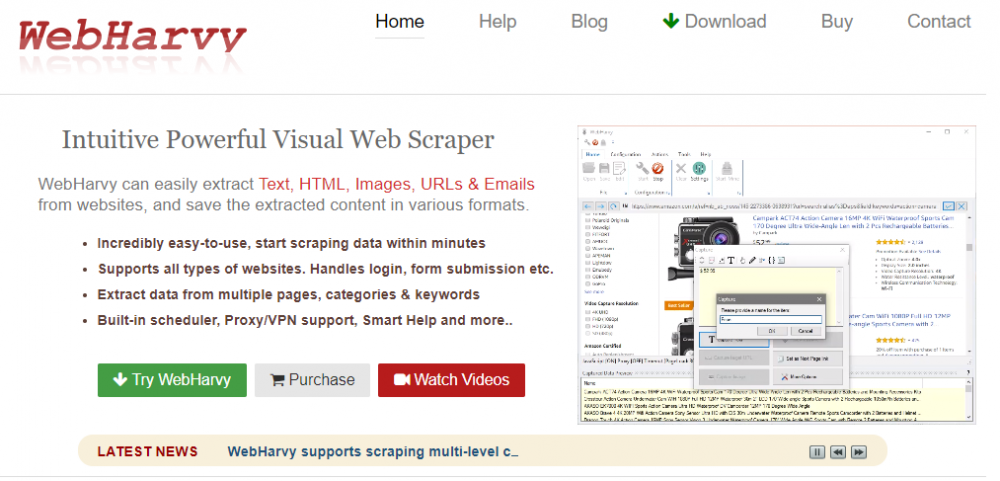 Webharvy is a visual and point to click web scraping tool. With this tool, you can extract texts, URLs, and images from different websites. Extracted data are then saved in different formats like CSV, Txt, XML, and SQL. You can also scrape data from websites anonymously preventing you from being blocked by web servers.
Pros
WebHarvy is stable and simple to use and understand. It serves best for a quick web scraping need with several data export formats.
Cons
WebHarvy does not support documentation extraction and it does not have a free version.
80legs
80legs is a free and yet a powerful web scraping tool that can be configured based on the users' customized requirements. With this tool, you can fetch a large amount of data with an option to download extracted data instantly.
80legs is a high-performance web scraping tool that works fast to fetch required data within seconds. Its Datafiniti feature allows users to search for data fast. The tool can be incorporated with API of other applications.
Pros
Users only pay for what they crawl thus making the crawling technology accessible to small companies and businesses.
Cons
80 legs is not that flexible as other web scraping tools because for a user to scrape large amounts of data, they must set crawled data, pre-build an API or develop a crawling application.
Scraper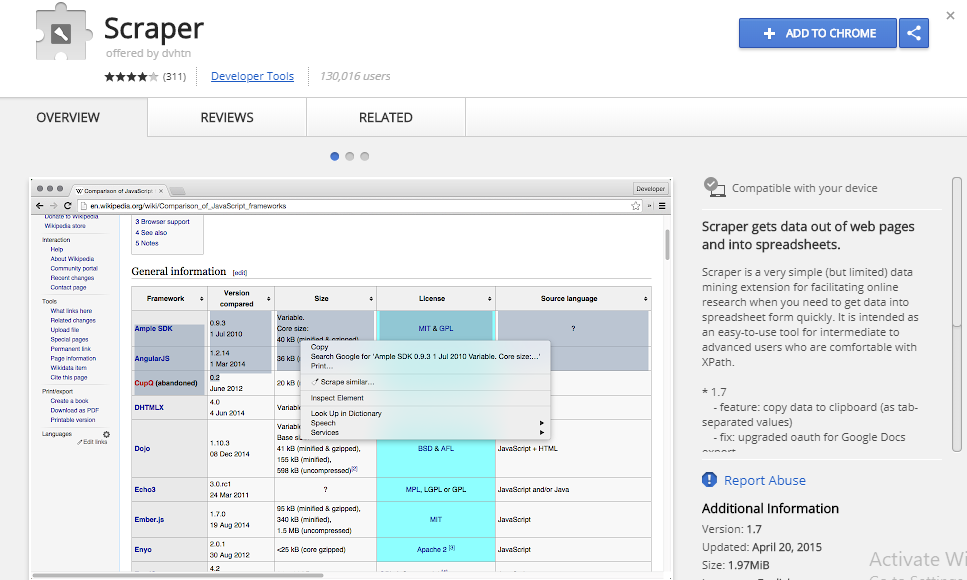 Scraper is a free chrome extension web scraping tool with limited web scraping features. The tool facilitates online research and exports data collected in Google spreadsheets fast. This tool is best for beginners and experts who can copy data to a clipboard using OAuth. This web scraping tool works in a way where it auto generates small XPaths to define URL paths to crawl.
It works by selecting data that you want to scrape. You later click on scrape similar and it will give you options to click or export to excel sheets or Google docs.
Pros
The tool is easy to use and scrapes data fast.
Cons
It can only works for simple crawling projects and has limited extraction features for a simple web page.
Import.io
Import.io is a web Brower extension that allows users to extract data with just a point and a click style. The tool works by converting semi-structured information into structured data that can be used for driving business decisions to integration with other apps and platforms.T he data scraped is in real time through JSON REST base streaming APIs.
Pros
Import.io is easy to use and uses the latest technology that supports almost every system to scrape large data. The tool has a clean and user friendly interface, simple dashboard and how to videos.
Cons
Each sub page is paid for and hence becomes expensive if you are data from numerous sub pages. This tool also does not work with every website. It depends with the website's architecture.
Contact us for details
Related articles