Price monitoring: competitive pricing for your business
Does your project involve a continuous monitoring of competitors' prices? Do you need more than a price tracking? Use our tools for your tasks.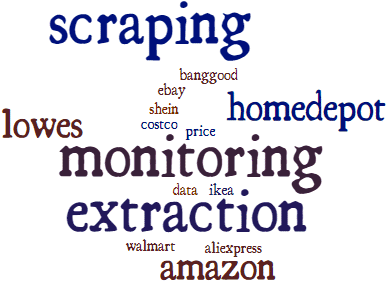 A niche like e-commerce needs a constant update, especially in 2020. This update is not only about you, your products, or services. It is also about what others, mainly competitors, offer? Are you offering as good as they do? Are you missing something? Are your prices way higher? Or way below? So, to be able to answer all these questions, you need a price monitoring tool. Getting a price monitoring tool and using it efficiently will definitely boost your business. You can also use these types of software to analyze the prices of the stock you bought. However, here we are mainly interested in e-commerce. A lot of price monitoring sites offer different tools, software, or extensions to their customers. Their working methods and approaches to the development may vary. It wouldn't be effective to seek all-in-one solutions. Even one customer may need different tools for different projects. Price monitoring tools are no exception. Therefore, if you wonder what price monitoring tool or price monitoring software is and how they are used, you are more than welcome to read the remaining part of this post.
What is price monitoring
If you have ever browsed shopping sites like Amazon, eBay, or AliExpress, you may notice they offer some promotion from time to time. This suggests that their prices are continually fluctuating. So, if you own a store, those platforms, or have your own e-commerce website, you need to keep pace. For this purpose, price monitoring tools or software are preferred. Mainly, but not limited to, price monitoring sites offer price monitoring systems. If you can't keep up with the prices, it will not be easy to survive against the giants mentioned above. These tools monitor prices; that is, they deliver you prices of the products you need in a neat format. Mainly, you get a JSON, an Excel file. In such files, you can include all the relevant info, like price, URL of the products, and the URL of the pictures, dimensions, weight, price in other shops (if available), etc. Since each requirement is unique, that price monitoring software is generally developed according to the needs. That is, we can say that each software is client-based. Think about doing this manually. You would need so much time that you can quickly get out of the game. Therefore, using these automated price monitoring systems saves you time. Not only that, if you use it correctly, you will also save money, make a profit, and boom your e-commerce. Since some product prices can vary daily, keeping track of them gives you an advantage over your competitors. You can develop your own market strategy with the actionable insights you get from the "intelligence" you get via parsing tools. By the way, it would not be wrong to call them parsing, or even scraping, tools as well. In reality, they do that tools parse (or gather) all the info you request and deliver them in a more readable format. Online price monitoring sites may even deliver graphic-based results. That way, you may analyze the real-time prices of the products. Using this to your benefit totally depends on you.
Today, purchasing goods and services online is a prevalent practice among millions of people worldwide. Purchasing online is convenient, easy, and economically advantageous, as multiple e-commerce platforms offer competitive prices. Thus, both sellers and buyers are bound to execute price monitoring, comparison, and analysis. The number of online purchases is constantly growing.
According to Statista, in 2018, 1.8 billion people worldwide purchased goods online, and global e-retail sales amounted to 2.8 trillion U.S. dollars. By 2021, the growth of online sales is estimated up to 4.8 trillion U.S. dollars.
According to Euromonitor International, e-commerce will be the largest retail channel by 2021.
For price tracking and analysis, MyDataProvider offers a proprietary software tool that is easily customizable.
The accurate data received quickly, allowing our customers for improved flexibility in its branding, advertising, and pricing policies.
Types of price monitoring
In most cases, what you get is either a price monitoring software or a price monitoring extension. However, since your demands may be unique, developers may develop either one for you. Pros and cons of either a software or extension aside, always consider your needs and budget before ordering any. Don't sacrifice your needs while also don't exceed your probable budget. If you search enough, you may always find an affordable solution. It is 2020 outside, competition is high, and therefore, one of the scraping services will always provide you what you need for the price you can spare. In most cases, the software can be developed according to your technical specifications. This may not be the case with the extensions. That is because, in most cases, extensions are free to use. Albeit, those extensions may act as the demo from a company that offers fully working software. It is not unusual for companies to do so. There are even some extensions that have only one operation: track discounts for you. Since they compare the prices of the products, we can include them in this category. These discounts can sometimes be in the form of a coupon. Sharing coupons is one of the most common ways e-commerce platforms use to attract customers.
Features