Jumia web scraper
Are you looking for a way how to export Jumia products into excel or json file via ecommerce web scraping? Here at MyDataProvider.com you can export /scrape Jumia products using our ecommerce web scraping software, web scraping software allows you to get Jumia data in real-time.
Order Jumia Web Scraper now!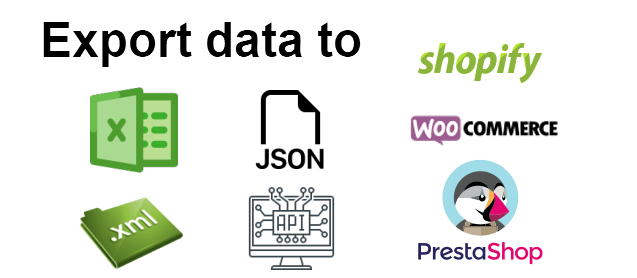 ---
Benefits

1. Full automation. Bulk data extraction by categories or products list.
2. Setup 1 time, and it will work daily without your attention.
3 You do not need to install at your Windows/Mac/Linux chrome extensions or external software / plugins.
4. All tasks will be run at our cloud / servers.
5. You do not need to purchase proxies (they are included).
6. Support team will help you if any question.
7. Ecommerce data support: margins, currency, translations via google translation api.
---
Jumia web scraper exports (daily) all data from Jumia site and saves to Shopify/WooCommerce or files: csv,excel,xml,json. Jumia web scraper allows you to export data to online stores: Shopify,WooCommerce,Prestashop automatically.
Jumia web scraper is based on
Web scraping tool "Runner"
. "Runner" is an universal tool for scraping and it could be configured for Jumia site with your custom requirements. "Runner" allows users to scrape data from Jumia site and to export to csv, excel, json or xml files even sync with online stores.
So if you need to use Jumia scraper you can use this web scraping tool: you will have access to your private area at our site where you can run your scraper tasks for Jumia, define links for scraping and run tasks itself.
Contact us and we will configure our
Web scraping tool "Runner"
for your case.
Jumia is an online marketplace in Africa. It sells products ranging from fashion, electronics, beauty products, baby and kids stuff, toys to household items. The marketplace was launched in 2012 expanded to five other countries Egypt, Morocco, Ivory Coast, Kenya and South Africa.
Items on the website are displayed with their price tag, discount offered and the reviews of customers who had bought the item. The payment is usually done after delivery and makes it favourable for new buyers who have not yet gained trust in online selling platforms.
Jumia products export
Do not copy-paste content - allow Jumia web scraper to export all products from Jumia for you automatically!
---
Export Jumia products details: name, description, sku, id, images, features, options. Save to files: csv, xml, json, excel. Get the solution to export content from Jumia website. Export the next Jumia fields:
| Fields | Comment |
| --- | --- |
| basic fields | name, sku, price, description |
| quantity or availability | If quantity is accessible we extract as is , if no we determine availability and if item is available set quantity = 5 if no = 0 |
| all images | all images will be scraped and we will save them as urls. |
| features | each feature will extracted separately and will saved to appropriate columns or tags |
| variants, options (size, color etc) | each Jumia product variants with specific set of size or color will be saved correctly and all related images will be saved for such variant |
| categories with structure | you can extract full category path for each items and to get full hierarchy for source catalog |
We have own solution for web scraping and we can extract data from any web site.
What we do
We provide managed Jumia web scraping or Jumia price monitoring services for retailers.
When you need that
When you need to scrape data
from Jumia site
1 time or periodically.
Results you will get
Using our web scraping services you can extract Jumia data and save to
csv, json, xml or excel files.
Jumia web scraping FAQ
| | |
| --- | --- |
| How do you get Jumia data? | We scrape Jumia data via web scraping directly from Jumia website. |
| Can I save Jumia scraped data to files? | Yes, you can: excel,json,xml,csv. |
| Can I scrape Jumia data daily or periodically ? | Yes, we you can do that : Jumia scraper has scheduler where you can setup it. |
| Can I determine urls to extract? | Yes, you can do that via web interface in browser at Jumia web scraper. |
| Can I extract all items from 1 Jumia category? | Yes, you can do that easily because Jumia web scraper supports that. |
---