Net-A-Porter web scraper
Are you looking for a way how to export Net-A-Porter products into excel or json file via ecommerce web scraping? Here at MyDataProvider.com you can export /scrape Net-A-Porter products using our ecommerce web scraping software, web scraping software allows you to get Net-A-Porter data in real-time.
Order Net-A-Porter Web Scraper now!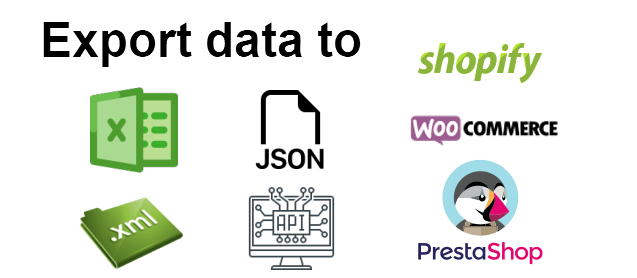 ---
Benefits

1. Full automation. Bulk data extraction by categories or products list.
2. Setup 1 time, and it will work daily without your attention.
3 You do not need to install at your Windows/Mac/Linux chrome extensions or external software / plugins.
4. All tasks will be run at our cloud / servers.
5. You do not need to purchase proxies (they are included).
6. Support team will help you if any question.
7. Ecommerce data support: margins, currency, translations via google translation api.
---
Net-A-Porter web scraper exports (daily) all data from Net-A-Porter site and saves to Shopify/WooCommerce or files: csv,excel,xml,json. Net-A-Porter web scraper allows you to export data to online stores: Shopify,WooCommerce,Prestashop automatically.
Net-A-Porter web scraper is based on
Web scraping tool "Runner"
. "Runner" is an universal tool for scraping and it could be configured for Net-A-Porter site with your custom requirements. "Runner" allows users to scrape data from Net-A-Porter site and to export to csv, excel, json or xml files even sync with online stores.
So if you need to use Net-A-Porter scraper you can use this web scraping tool: you will have access to your private area at our site where you can run your scraper tasks for Net-A-Porter, define links for scraping and run tasks itself.
Contact us and we will configure our
Web scraping tool "Runner"
for your case.
Net-a-Porter is an online fashion store with more than 800 fashion brands and more than 200 beauty brands presented. Net-a-Porter is an English company founded in 2000 by a fashion entrepreneur and ex-journalist Dame Natalie Sara Massenet who started it as a website in the format of the magazine for selling designer fashion. By 2004 Net-a-Porte gained the best fashion shop award at the British Fashion Awards. Now the company is the part of Yoox Net-a-Porter Group with the opportunity to delivery luxury fashion and beauty brands to over 170 countries like the USA, Germany, France, Australia, Singapore, and etc. The world-famous Gucci, Chloe, Balenciaga, Saint Laurent are available for shopping by more than 6 billion clients of Net-a-Porter.
Net-A-Porter price monitoring
Export Net-A-Porter real-time prices and stocks daily or with required frequency
---
Here on MyDataProvider, we provide
price monitoring services
, Check our solution for real-time price monitoring :
real-time web scraping
allows our clients to get actual prices and stocks levels from Net-A-Porter site: our
Web scraping tool "Runner"
can be configured for scraping prices from Net-A-Porter site.
Net-A-Porter products export
Do not copy-paste content - allow Net-A-Porter web scraper to export all products from Net-A-Porter for you automatically!
---
Export Net-A-Porter products details: name, description, sku, id, images, features, options. Save to files: csv, xml, json, excel. Get the solution to export content from Net-A-Porter website. Export the next Net-A-Porter fields:
| Fields | Comment |
| --- | --- |
| basic fields | name, sku, price, description |
| quantity or availability | If quantity is accessible we extract as is , if no we determine availability and if item is available set quantity = 5 if no = 0 |
| all images | all images will be scraped and we will save them as urls. |
| features | each feature will extracted separately and will saved to appropriate columns or tags |
| variants, options (size, color etc) | each Net-A-Porter product variants with specific set of size or color will be saved correctly and all related images will be saved for such variant |
| categories with structure | you can extract full category path for each items and to get full hierarchy for source catalog |
We have own solution for web scraping and we can extract data from any web site.
What we do
We provide managed Net-A-Porter web scraping or Net-A-Porter price monitoring services for retailers.
When you need that
When you need to scrape data
from Net-A-Porter site
1 time or periodically.
Results you will get
Using our web scraping services you can extract Net-A-Porter data and save to
csv, json, xml or excel files.
Net-A-Porter web scraping FAQ
| | |
| --- | --- |
| How do you get Net-A-Porter data? | We scrape Net-A-Porter data via web scraping directly from Net-A-Porter website. |
| Can I save Net-A-Porter scraped data to files? | Yes, you can: excel,json,xml,csv. |
| Can I scrape Net-A-Porter data daily or periodically ? | Yes, we you can do that : Net-A-Porter scraper has scheduler where you can setup it. |
| Can I determine urls to extract? | Yes, you can do that via web interface in browser at Net-A-Porter web scraper. |
| Can I extract all items from 1 Net-A-Porter category? | Yes, you can do that easily because Net-A-Porter web scraper supports that. |
---