Go to @Sources-> @Your source – Edit->@Categories change +margin and Press @Donwload template. Template for Settings Margins for selected categories will be downloaded.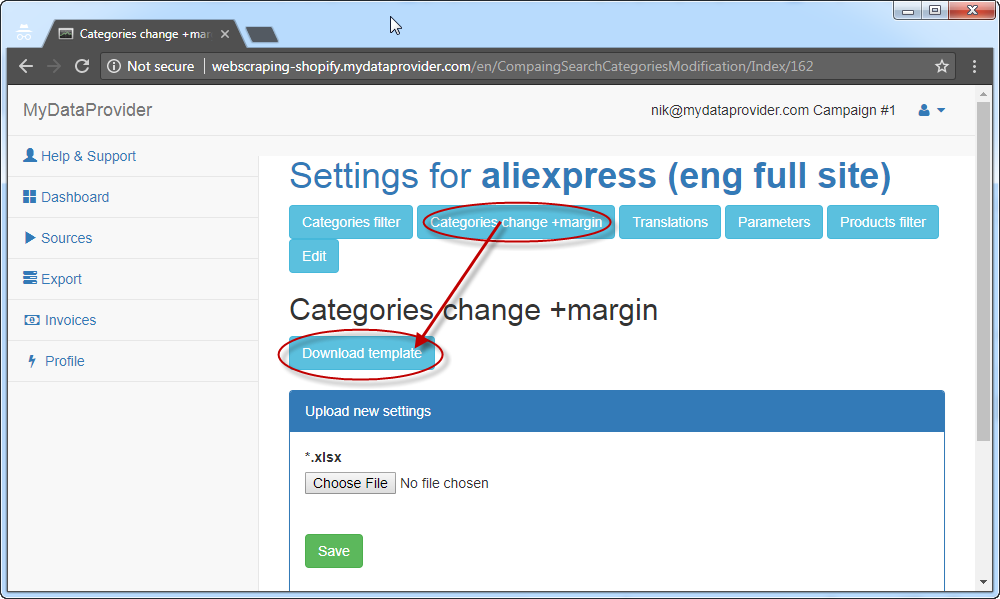 It is Excel file – open it in Ms Excel or OpenOffice or LibreOffice editor.Sample file

Now you have to fill this file and upload to @Upload new Settings section.
Find below sample of filled file:


How does Margin work
Active formula for NEW Prices is the next:
New Price = (Wholesale Price * (1 + Margin %) ) + (Margin DELTA)
Source category column (A) – do not change it!
Destination category column (B) – allows you to change original category path.
Margin % percent column (C) – allows you to set your margin for exported products
Margin DELTA column (D) – allows you to add specific number to price after margin % action
Sample 1: calculate manually
Wholesales price is 100$
Margin Percent is 10%
Lets get results:
100$ * (1 + 10%/100) = 110$
or 100$*1,1=110$
where 1,1 is effective multiplier
Sample 2: what "Margin percent" should I set if I want just multiply "Wholesales price" at 1800
effective multiplier is 1800
Lets get results:
1 + %/100 = 1800
1800-1 = 1799
%/100 = 1799
% = 179900
So, "Margin percent" has to be 179900