You need to try WebScrapers Runner
Here at MyDataProvider, we provide services that are convenient and rooted in excellence. Web scraping is supposed to make collecting information easier for you and that is what we want to deliver – a hassle free experience.
Our process of scraping information from different websites is pretty straightforward. The process is mostly automatic and bot reliant. It does not only raise the accuracy of the information that we can collect by minimizing human bias; it also makes the process easier and faster.
Welcome to Web Scraping software as a services "Mydataprovider Web Scrapers Runner". You can scrap the web easily using "MyDataProvider Web Scraping Services" without worrying about backups, monitoring or servers. MyDataProvider manages everything for you.
We store the scraped data safely into our database where you can browse and share it from your dashboard.
MyDataProvider Web Scrapers as a Service
MyDataProvider is the creator and maintainer of "MyDataProvider Web Scraping services". These services are made available to users who don't have time or tactics to scrap a website. We assure you to be in safe hands if you choose MyDataProvider web scraping service.
Benefits of using MyDataProvider as a service
MyDataProvider is proud to extract data/products from any website and deliver the information to its users in the formats of their choice. Our web scraping services are designed to scrape data easy and fast allowing you to get reliable data with minimal efforts.
1. You do not Need any Additional Software
Scraping the web sometimes can be difficult especially when scraping complicated websites. Don't waste time finding a web scraping software, learning how it works and investing in it. With MyDataProvider web scraping service, we will help you scrape the web in the shortest time possible. Just relax, we are here for you.
2. Offers Advanced Scraping Techniques
The traditional and outdated methods have limits in their web scraping abilities. Some website requires authentication hence hard to scrap while others use JavaScript making their data unclear. With MyDataProvider service, you are sure to bypass such situations and get data that is usable.
3.Fast Data Delivery
As much as data delivery depends on the amount of data being scraped, MyDataProvider services assure its users to receive data in the shortest time possible.
4. Affordable
MyDataProvider understands that big budgets are everyones concern. This is the reason why we have made web scraping services affordable to all. Our pricing plan helps you cut unnecessary costs, and we assure our clients to get what they want.
5. Data is available in Any Format
We deliver data to customers in the formats they need. Data is available in CSV, XML, Excel formats.
WebScrapers Runner & eCommerce
Welcome to MyDataProvider WebScrapers Runner where we provide excellent and reliable DropShipping/eCommerce Time Saver / Suppliers Integration & Web Scraping eCommerce service. Today, doing dropshipping business has become common, and that's the reason we are here to offer the best solutions for you.
Point and Click System. You could add any site as a Data Source or supplier's API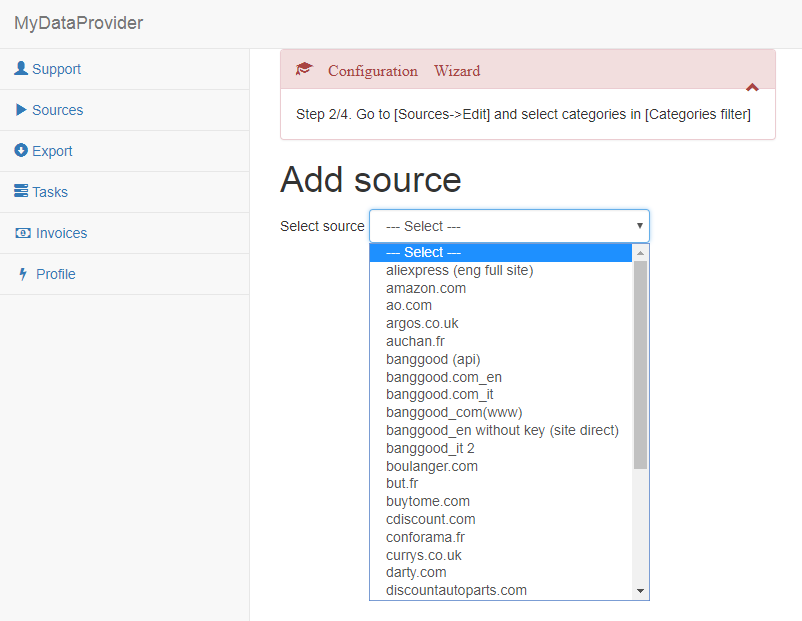 To use MyDataProvider, you only need to point and click the data you want to be scraped. You do not need to have any programming or developer skills to do it.
Web Scraping eCommerce data
MyDataProvider can scrape data in any format that you want. You can get your data in Excel, CSV, XML or Json or direct export into your e-commerce store.
Just say what format you need your data in, we will do it for you.
Full customer support
MyDataProvider is proud to say that it provides full support to its users. There are ready tutorials on our website just for you!
In case of any troubleshooting, contact us and we will be more than ready to help you.
Product & Categories Web Scraping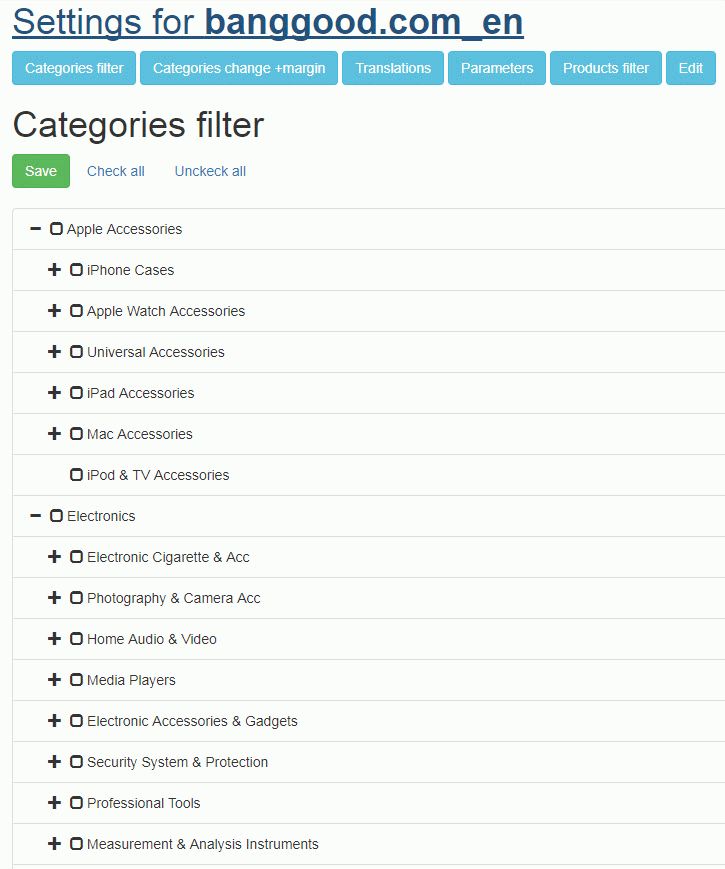 All e-commerce websites display their products in categories. The categories can be arranged either by brand, types of products, prices, etc. With MyDataProvider, you can scrap all this information successfully.
Margin Setup for pricing rules
Improve your sales by setting up the best sales margins & setup your prices With MyDataProvider Application, you can use the data scraped from different e-commerce platforms to set up the perfect price for your products.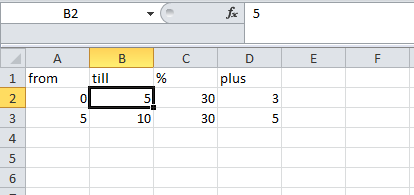 Product Filter by Category or SKU
Ecommerce websites are the best sources of product data. If you are building your website, it is necessary to outdo your competitors with perfect pricing intelligence or doing a thorough market research. All this information is available from e-commerce sites.
If you want to scrape some SKUs from e-commerce sites, MyDataProvider are the perfect set of services for the job. Our dedicated e-commerce services can help you extract product details for your SKUs: prices, margin, discounts etc.
Different Sources Merge
You can scrap data from different websites and merge the information extracted as one. All this is possible with MyDataProvider.
Export Data in any Format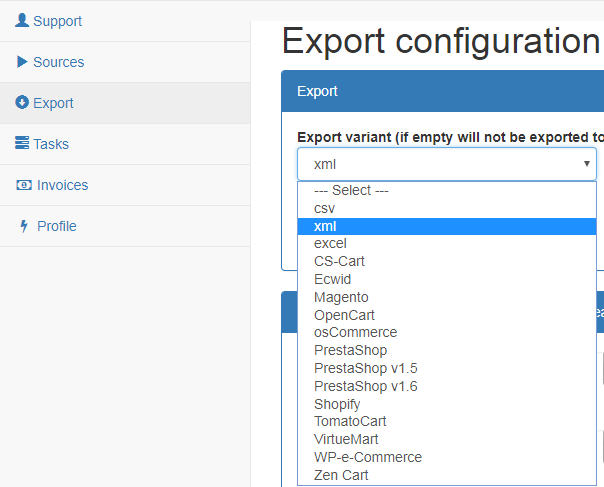 When you choose to export data using MyDataProvider, you are not restricted to any format. You can export data in CVS, XML, Excel formats.
Direct Export to your online store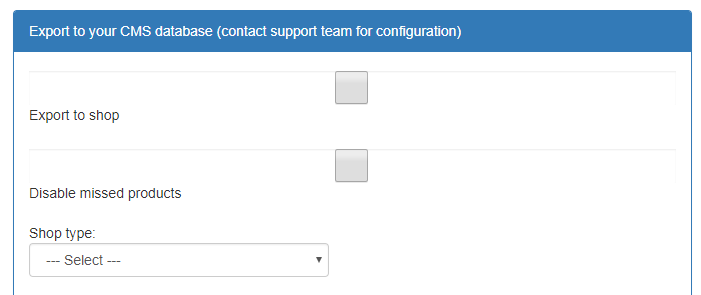 MyDataProvider users can export products to Shopify, Woocommerce, Prestashop, Magento, Opencart stores. Users only need to copy the product URLs into MyDataProvider App. They use our API to access data from their MyDataProvider application.
Benefits for using MyDataProvider for Ecommerce Solutions
Users can export data in their store formats.
You can scrap only categories that you find relevant
MyDataProvider provides 100% and timely support by Email and skype/phone.
Welcome to MyDataProvider where you can quickly turn website content into structured and usable data without any coding, programming or developer skills.
We are proud to say that the data extracted can be used for price monitoring, market research and lead generation and give positive results.
Do the next steps?
Step 1: Log in into MyDataProvider web scraping App
Setup environment.
Step 2: Identify and Collect Data
Use MyDataProvider Application to extract information from any website into a structured format.
Step3: Structure and Publish Data
You can export data in CSV, XML, Excel, SQLite, PostgreSQL formats or pull data using MyDataProvider API.
Step 4: Analyze, Report and Make Decisions
Send data extracted into your database for visualization and decision making.
Contact us for details
Related articles